London day-release armed robber Sean Bradish jailed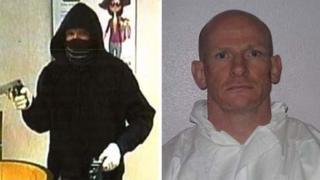 A criminal who carried out armed robberies whilst on day release from jail has been given three life terms.
Sean Patrick Bradish was in jail for involvement in up to 50 other robberies at the time he carried out the acts in London, the Old Bailey heard.
Bradish, 46, of Shoot Up Hill, must now serve at least eight-and-a-half years before being considered for parole.
Among other offences, he had pleaded guilty to six counts of robbery and two counts of attempted robbery.
The defendant, who was on day release from HMP Spring Hill at the time, also admitted nine counts of possession of an imitation firearm with intent to cause fear of violence.
Threatening staff
The offences took place in areas across London, from Ickenham to Finchley, from from April 2012 until March last year.
The first took place on 28 April, when Bradish walked into a bank on Finchley Road and threatened staff, who handed over £8,500.
In September that year, he escaped with £6,500 after carrying out a similar raid at another bank on Finchley Road.
After being released from prison on licence, Bradish continued committing the offences, including on 22 March last year, at a bank in Cricklewood Broadway, where he failed to obtain any money.
In evidence about the raid, a witness said she was grabbed by Bradish who held a gun to her head, the experience of which left her "uncomfortable and vulnerable", long after the incident.
'Blatant disregard'
Bradish was later arrested in Northwood, Middlesex, after he committed another offence in Uxbridge.
Speaking after the hearing, Det Sgt Ben Kennedy, of the Flying Squad, said: "Bradish showed blatant disregard for the restrictions imposed on him and had he not been caught when he did I have no doubt he would have carried on offending."
The defendant was coming to the end of serving four life sentences, which he was handed in March 2002, when he started carrying out the robberies.
In that case, an accomplice turned supergrass and implicated him and his brother Vincent Bradish in at least 50 robberies, between 1995 and 2000.