'Bank theft scam run from an 'Aladdin's cave', court told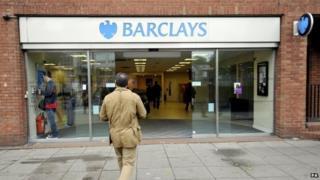 A plot to steal millions from high street banks was run from an "Aladdin's cave" of documents and electronic equipment, a court has heard.
Lanre Mullins-Abudu, 25, of Putney, south west London, denies conspiracy to steal £1.25m from Barclays via a device attached to a bank manager's computer.
The jury heard the money was transferred from six accounts of the Swiss Cottage branch in April.
Police found the evidence when a London property was raided last year.
Barclays employee Duane Jean-Jacques, 25, of Belsize Road, north-west London, was the "inside man", prosecutor Simon Farrell QC told Southwark Crown Court.
Mr Farrell said Mr Jean-Jacques enabled a KVM (keyboard video monitoring) device in a black box to be attached to the branch manager's computer.
"KVM can be used to provide unauthorised remote access to a computer within a high street bank," the prosecutor said.
"The criminals were able to gain access to the main framework of the bank's network of accounts, allowing them to transfer money to other or mule accounts."
Some 128 separate transfers, all under £10,000, were made from six high-value accounts, including those belonging to London Metropolitan University and the University of Portsmouth.
Mr Farrell said "in excess of 400,000 pieces of Royal Mail" were stolen to carry out the scam.
The jury was shown photographs of the alleged "Aladdin's cave" at a property in Seymour Street in Marylebone,
Police found it "stuffed to the rafters with material for use in credit card fraud", Mr Farrell said.
A bedroom wall in the home was said to be covered with 75 bank letters with credit cards, pin numbers and bank security questions attached.
Stolen credit cards
The home also had a box which contained "hundreds" of credit cards from UK banks, and a "sophisticated piece of machinery" involving 24 sim cards that allowed automated calls to be made to victims who believed they were being contacted by their own banks to get their pin numbers, it is alleged.
Mr Mullins-Abudu denies charges of conspiracy to commit fraud, two counts of conspiracy to steal, concealing criminal property and possession of articles for use in fraud.
Mr Jean-Jacques denies conspiring to steal from Barclays and a charge of concealing criminal property.
Others have previously admitted their role in the plot, the jury was told.
Mullins-Abudu and Akash Vaghela, 27, of Hounslow, west London, deny conspiring to steal credit balances from Santander bank in a similar scheme in September.
Steven Hannah, 52, of Marylebone, north-west London, and Lewis Murphy, 39, of Chelsea, west London, deny conspiracy to commit fraud using credit cards last year.
The trial is expected to last for five weeks.