Azelle Rodney death: Met marksman challenges inquiry's ruling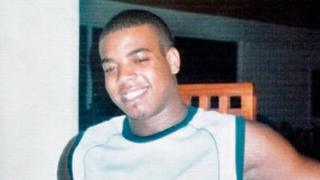 A police marksman is challenging a public inquiry ruling that he used excessive force when he shot dead a robbery suspect.
Lawyers for the officer, known as E7, say the finding is "irrational and unsustainable".
Last year an inquiry decided there was "no lawful justification" for the marksman to have killed Azelle Rodney.
The marksman is asking for permission to seek a judicial review over the inquiry's conclusions.
Mr Rodney was shot after the car he was travelling in was stopped by armed police in Edgware, north London, in 2005.
The police say they had intelligence that Mr Rodney, 24, was on his way to rob Colombian drug dealers.
Led by former judge Sir Christopher Holland, the inquiry found that E7 "could not have rationally believed" Mr Rodney had a sub-machine gun and that his death was unlawful.
'Contradictory' evidence
Samantha Leek QC, representing E7, told the High Court: "We say it is not a logical conclusion, either on the forensic or eyewitness evidence, that E7 did not honestly believe there was an imminent threat to his colleagues' lives."
She said E7's case "has serious implications, not only for E7 but also for firearms officers around the country".
The Met has backed his application for a judicial review which is being opposed by a legal team acting for Sir Christopher who have argued that E7's legal challenge was "untenable".
Ashley Underwood QC said: "There is evidence that contradicts every stage of his claim that he opened fire because he believed - because of movements he saw Mr Rodney make - that his target had picked up and was preparing to shoot a firearm."
A single judge, Mr Justice Wyn Williams, has already refused E7 permission for a review.
E7 could face criminal trial over Mr Rodney's death and prosecutors are considering whether to bring charges.