Police officers face student demo arrest charges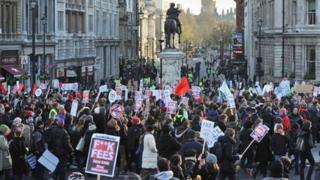 Two policemen are to face charges over claims that they illegally arrested a student during the tuition fee protests four years ago.
PC Calvin Lindsay, 30, and PC Andrew Ott, 35, have been summonsed to appear in court to face charges of conspiring to pervert the course of justice.
Prosecutors allege that the officers arrested a 20-year-old student on 9 December 2010 in Westminster.
Ott is also accused of one count of assault causing actual bodily harm.
'Not enough evidence'
The student was arrested on suspicion of threatening to commit criminal damage but no further action was taken.
The police watchdog the Independent Police Complaints Commission (IPCC) had given the file to prosecutors in February 2012, but the Crown Prosecution Service (CPS) said there was not enough evidence to provide a realistic prospect of a conviction.
In December following a review of the decision, the CPS authorised the IPCC to summon both officers to court.
The men are due to appear at Westminster Magistrates' Court on 24 February.