Joseph Burke-Monerville murder: Police return to scene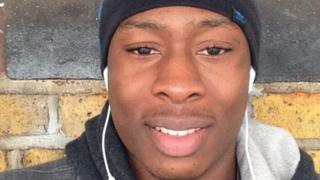 Detectives are returning to the scene one year after a 19-year-old was murdered in east London.
Joseph Burke-Monerville was shot as he sat in a car in Clapton, with his twin brother, who was not injured, and their older brother, who was shot in the arm.
Police, who believe it was a case of mistaken identity, have increased a reward for information leading to the killers from £20,000 to £30,000.
Family and friends have held a service for the teenager in Hackney.
Mr Burke-Monerville, from Islington, north London, was shot in the head and died several hours after the attack on 16 February at 20:20 GMT in Hindrey Road, Clapton.
The teenager was half way through his first year studying crime scene and forensic investigation at London Metropolitan University with his twin brother.
His mother Linda said: "The twins and their elder brother Prince David are entirely innocent boys who were not involved in any gangs and they were targeted because of mistaken identity.
"My family and I are devastated and we cannot fully grieve nor can we celebrate his life knowing that his killers are still out there.
"Those responsible for my son's life are someone's son, someone's brother, someone's boyfriend, someone's family, someone's friend and I am pleading with those that have knowledge of the whereabouts of these boys who committed this horrendous act to come forward and assist the police in catching them."
The Met Police said two suspects were seen running from the scene wearing dark hooded tops, with bandanas covering their faces.
They were both seen making off on foot after the shooting, through the Pembury Estate via Pembury Road and on towards Hackney Downs.
Nine men have been arrested in connection with the murder but no further action was taken.