Mayor holds emergency meeting over flood risk in Kenley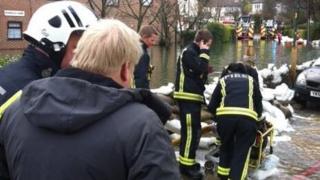 London mayor Boris Johnson has thanked agencies involved in averting a "potentially horrendous situation" at a water treatment works in Croydon.
Firefighters and soldiers are working around the clock to stop the Kenley site from flooding.
Crews are pumping away 24,000 litres of water a minute from the affected plant on Godstone Road.
The mayor held a meeting in Croydon to talk to the agencies involved in stopping the plant from flooding.
At its height about 130 people were evacuated from their homes.
'Colossal volumes'
Mr Johnson said: "It's been very tough for residents here, and obviously I'm very grateful to people who've agreed to be moved, they've been very stoic, but it's clear the emergency services have averted a potentially horrendous situation.
"The Army and the fire brigade here have been working flat out and have done an absolutely extraordinary job sandbagging properties and pumping away colossal volumes of water.
"I want to thank all the agencies involved... they've demonstrated incredible improvisation when faced with some very old infrastructure that's been unable to withstand the pressures of the water, and London has them to thank."
About 100 firefighters along with 80 soldiers are helping to lay sandbags around the site.
Water engineers and the Met Police are also at the site to help.
Kenley Water Treatment Works, run by Sutton and East Surrey Water, provides water to 47,000 properties.
A spokesman from the company said water reached an "exceptionally high" level on Friday night but "we got through it".
He said the situation was now "much, much better".
Firefighters have been at the Kenley site since 6 February.
On 7 February Croydon Council declared a "major incident" in parts of Kenley, Purley and South Croydon due to the high risk of flooding.
Leaflets have been delivered to about 1,500 homes and businesses warning that buildings could be at risk.