Train derailment avoided by chance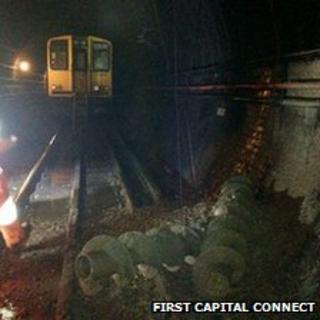 A rail derailment was prevented by chance after two drills came through into a railway tunnel at a busy east London station, a report has said.
A derailment, near Old Street station, was prevented because a train driver had reported water flowing on to his roof, said the report from the Rail Accident Investigation Branch (RAIB).
A non-passenger train went to investigate and the driver spotted the drills and raised the alarm.
The incident took place in March 2013.
'Unaware of tunnel'
Rail services between Moorgate and Finsbury Park in north London were suspended for the rest of 8 March and were restored the following week.
The six-foot long augur drills, which weighed nearly 19 stone each, were being used for boring piles from a construction site 40ft (1.2m) above the tunnel used by First Capital Connect trains.
The RAIB report said the drill operators were "unaware" they were working above an operational railway tunnel.
The report said: "Its position was not shown on the site plan, or on any map available to either the developer or the local planning authority.
"As a consequence, Network Rail was not consulted during the planning application stage and was unaware of the construction activity."
The RAIB, which made five recommendations, said it had determined that approximately half of the piles required for the new development would have intersected with the tunnel if they had been constructed.