Pedicab drivers fined over West End music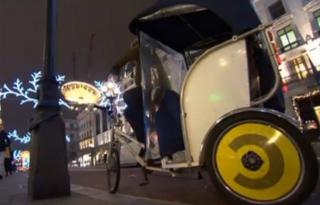 Six pedicab drivers have been ordered to pay fines and costs totalling more than £3,000 after breaking noise laws in London's West End.
They were prosecuted for playing loud music from their pedicabs at night in Oxford Street and Regent Street.
Westminster City Council said it received more than 50 complaints about pedicab noise between April and September last year.
It said "blaring out music" was "unacceptable and against the law".
Nabel Ashawish, 27, of Haydon Walk, Aldgate; Alamgir Hussain, 29, of London Road, Romford; Yahya Kemal of Pemberton Road, Finsbury Park and Evlogi Savov, 24, of Wallcote Avenue, Cricklewood, appeared at Westminster Magistrates' Court on 29 January.
They admitted playing loud music contrary to the Control of Pollution Act and were fined a total of £1315.
Hassan Adan, 27, of Pendragon Road, Bromley and Abdul Azad, 30, of Stepney Way, Whitechapel, were fined £1,730 in their absence on Wednesday.
Westminster Council said one night last September, a family counted 33 pedicabs with speakers going past their home near Marble Arch in less than three hours.