Developers submit plans to stop 'Walkie-Talkie' skyscraper rays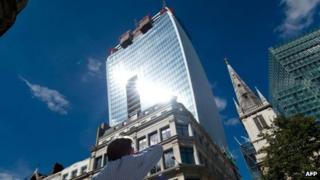 Developers have unveiled plans to install aluminium fins on the "Walkie-Talkie" to prevent the sun's rays reflecting from the skyscraper.
Land Securities and Canary Wharf Group have submitted a planning application to the City of London for a brise soleil system.
The system will prevent solar glare by absorbing sunlight, they said.
The 37-storey building in the City of London had started fires and caused damage to nearby businesses.
It was said not only to have melted parts of a Jaguar, but also blistered paintwork and caused tiles to fall.
The proposals say a series of horizontal aluminium fins will be installed across the southern side of the building from level 3 to 34.
The brise soleil is designed to diffuse sunlight to stop it reflecting from the building.
If approved the installation is expected to take approximately six months, the developers said.
In September a temporary scaffold screen was put up at street level outside the building to prevent the sun's rays from reflecting and causing damage.
The £200m building on 20 Fenchurch Street, which has been nicknamed the "Walkie-Talkie" because of its shape, is currently under construction.
Experts say they believe the fires started because the reflections of sunlight bounced off the building's curved windows and all converged at one point, concentrating the light.