New Year Honours: Jimmy Mizen's parents collect MBE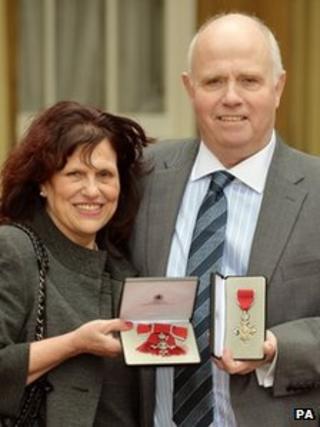 The parents of murdered schoolboy Jimmy Mizen have said collecting their MBE was an honour "in memory of a fine and decent young lad".
Barry and Margaret Mizen were recognised in the New Year Honours list for the charitable work they have done since their son was killed in 2008.
Jimmy was attacked a day after his 16th birthday in Lee, south-east London.
Mr Mizen said the honour was for their other children who have had to cope with the "horrific loss" of a brother.
"The focus is on us today, but I am so pleased that the rest of our children are here," he said.
"They loved Jimmy. He was an amalgam of all his brothers and so to meet any one of Jimmy's brothers is to meet Jimmy. He was a great lad - God bless you, Jimmy."
The couple's other children - Joanne, 42, Danny, 35, Bill, 33, Tommy, 31, Bobby, 30, Samantha, 27, Harry, 24, and 14 year-old George - watched as the Prince of Wales presented the award at Buckingham Palace.
Mrs Mizen, 61, said: "Jimmy would love this."
Imagining him looking down on them, she said: "He would have a little smile on his face and be really proud of his family."
Prince Charles, who is a long-time supporter of the couple's Jimmy Mizen Foundation, which works to help make young people safer by offering those fleeing violence a safe place to go, has offered to visit a school with them.
Jake Fahri is serving a life sentence for his murder.