Murder probe after Tooting burglary death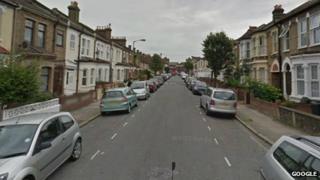 A pensioner has died after a burglary at his south London home.
Officers believe the 73-year-old man collapsed after two men broke into his home in Selkirk Road, Tooting, and threatened him and another occupant.
Emergency services were called to the property at about 12:00 GMT on Tuesday following reports of a burglary.
The man died at the property an hour later, police said. Detectives have launched a murder investigation.
While officers know the identify of the dead man, some relatives have not yet been informed. A post-mortem examination is expected to take place later in the week.
The Met said two suspects were seen walking up and down Selkirk Road before banging on the victim's door.
After they broke in, they left on foot with a number of items of property. Although the Met would not say what exactly was taken, the items were said to be of "moderate" value.
'Terrifying incident'
The suspects then turned left into Khama Road towards Garratt Lane and went into the area of Tooting Leisure Centre.
The first suspect is described as black, aged 20-30, about 5ft 10ins tall and slim. He wore a blue jacket with the hood up.
The second suspect was white and slim with facial hair and wore a light-brown coat, police said.
Officers are investigating whether the house was targeted in a case of mistaken identity.
Det Ch Insp Graeme Gwyn said: "This was a terrifying incident and tragically the victim then collapsed and died in front of his family and police officers.
"We are very keen to hear from anyone who has information about what happened or the suspects."
No arrests have been made.