James Bond cars: 007's vehicles to go on display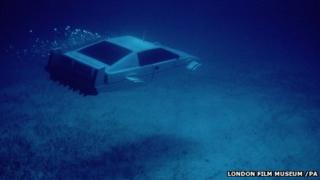 Cars used in the James Bond films are to go on display at a London museum.
The vehicles, including the white Lotus Esprit from The Spy Who Loved Me which famously doubled as a submarine, will be featured at the London Film Museum, in Covent Garden.
The Bond in Motion exhibition will also feature props, miniature models and action sequence boards from all 007's films.
The exhibition will open on 21 March.
In addition the Rolls-Royce Phantom III from Goldfinger and the Aston Martin DB5 from GoldenEye will also go on display.
The secret agent, who was brought to life in Ian Fleming's novels, has become a cinematic success.
The last film, Skyfall, broke box office records, taking £103m to become the biggest earner in UK cinema history.
The film, directed by Sam Mendes and starring Daniel Craig, also won an Oscar in 2013 for best original song.