Tube strike: Unions suspend strike after reaching deal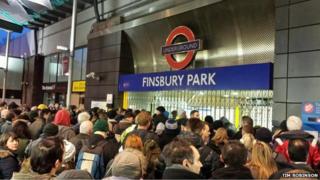 A second planned 48-hour strike by Tube workers has been suspended after unions reached a deal with London Underground.
The TSSA and RMT unions have agreed to pause the industrial action, which was due to start at 21:00 GMT, so further talks can take place with LU.
A 48-hour strike last week caused major disruption across the capital.
Talks to resolve the dispute, which centres on the closure of all 260 Tube ticket offices and 960 job cuts, have been held at conciliation service Acas.
LU said it had proposed two months of intensive talks with the unions, starting on Wednesday.
It said it had always wanted the "unions to engage fully with us" on the future of the Tube.
RMT general secretary Bob Crow said the agreement gave the union the opportunity to discuss the changes "away from the pressure cooker".
In a letter to RMT members, Mr Crow said:
LU had agreed a station-by-station review of the ticket office closures, which could mean that some will stay open
LU will not implement its proposals until further consultations are held on 4 April
During the discussion period, LU will put on hold all voluntary severance applications received
"We now have a golden opportunity to look again in detail at all of the concerns we have raised about the impact of the cuts on our members and the services that they provide to Londoners," Mr Crow said.
"That is exactly what we have been calling for throughout this dispute."
Mr Crow added the strike action would be back on if there was "any further attempt to impose change from above".
Speaking to BBC London, Mr Crow said he did not regret last week's strike.
"They weren't taking us seriously until we called the strike action and we got more done over that period of time when the strike action took place," he said.
"I think having a two-day strike was absolutely crucial."
A TSSA spokesman said the union was pleased with the plans.
TfL has said its proposals - which do not involve compulsory redundancies - would save £50m a year.
LU managing director Mike Brown said: "We have always said that we want the unions to engage fully with us, to help shape our proposals for the future of the Tube.
"The hard work of both the LU and union negotiating teams and the progress we have made at Acas over the last few days means we can do that without further unnecessary disruption to Londoners."