Army band ends 250-year association with Woolwich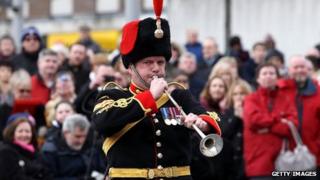 The Royal Artillery Band have marched out of their Woolwich barracks for the last time, ending an association of more than 250 years with the area.
The band is moving to Tidworth in Wiltshire as part of the Ministry of Defence's restructuring.
Former band members and current members performed in General Gordon Square.
The band was formed during the Seven Years War when officers serving in Germany decided they wanted a musical group to play on social occasions.
Councillor Angela Cornforth, the Mayor of Royal Greenwich, who presented medals to band members said: "Woolwich and the army have a close, shared history spanning 300 years and the Royal Artillery Band, which is both the oldest military band and orchestra in the UK, has been based in Woolwich for almost all of its 252 years.
"Therefore it is fitting that the band should have its last farewell with the local people who have supported them for centuries."
Last year the band travelled to Afghanistan to support British troops completing 96 engagements over 47 days with stars including Gary Barlow and Katherine Jenkins.