Chingford street flooding leaves residents stranded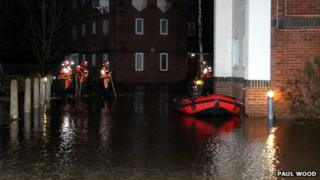 Fire crews used an inflatable boat to reach residents trapped by floodwater in their flats in north-east London.
London Fire Brigade (LFB) were called to Lower Hall Lane, in Chingford, just after 03:00 GMT after the nearby River Lea broke its banks following heavy rainfall.
Sandbags were laid around an electrical station in the area as a precaution.
Local resident Marco said the ground floor of his block of flats was flooded.
"I struggled to get to work this morning, I had to jump over a back gate to get out as the front entrance to the block of flats where I live was flooded," he said.
"I can't get access to my car as it's under water. It looks like Venice outside of my window."
London Fire Brigade said Environment Agency officials opened nearby sluice gates to allow water to flow away from homes.
An LFB spokesman said firefighters remained at the scene and water levels were beginning to subside.
"There have been no evacuations and although close to homes, the water has not directly affected any houses. Some water has managed to get through the airbricks of a block of flats but not directly into people's homes," he added.
He said residents did struggle to leave their homes at the height of the flooding and firefighters used an inflatable boat to reach people to help reassure them and ensure they were safe.
A spokeswoman from the Environment Agency said one garage and cars parked in the area suffered "extensive damage".
She added: "We worked with Thames Water to manually operate and open the sluice gates, allowing the water to pass through and the water has now subsided from surrounding areas.
"Thames Water will be monitoring the situation going forward and will attend to operate the sluice gates again when necessary. We do not anticipate any further issues."