Apollo Theatre ceiling collapse family seeks payout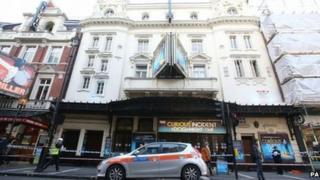 A family injured when the Apollo Theatre ceiling collapsed is suing the theatre's owners for compensation.
Chris Edwards, from East Sheen, was watching The Curious Incident of the Dog in the Night-Time in December with five members of his family, one of whom was badly hurt.
Mr Edwards said he wanted to "raise the issue" of building safety.
Owner Nimax's insurers Zurich said looking after customers was "a priority".
Nearly 80 people were injured when plasterwork from the Apollo's ornate ceiling fell about 40 minutes into the 19 December performance.
'Enveloped in dust'
The West End theatre, which is owned by Nimax, has been closed since the incident and an investigation by Westminster Council is under way to find the cause of the collapse.
Mr Edwards had been watching the play with his wife Linda, his son Gareth, his daughter-in-law Claudia, his other son Alastair and his pregnant daughter-in-law Kelsey.
"We just became aware of some crackling sound which I thought was someone opening a sweet," said the 63-year-old.
"I turned round and looked up and the whole field of view was this patterned shape rushing towards me. We were just enveloped in dust and in my mind there was stunned silence."
The collapse happened at 20:15 GMT when the theatre was almost full, with 720 people watching the performance.
Sitting behind Mr Edwards was his son Gareth, who suffered three broken vertebrae, a broken shoulder blade and suspected bruising to his brain.
Mr Edwards is calling for more rigorous building safety checks.
He added: "We should be looking at what value are some of these certificates because if the building was properly surveyed and had all the relevant certificates something is wrong because that ceiling... the plaster... was rotten and it failed and fell on us."
Insurance company Zurich, Nimax Theatres' public liability insurers, said they were working with experts towards a conclusion.
A representative of Zurich said: "We are working closely with Nimax, their insurance broker and other experts to work towards a conclusion. Naturally a key focus for us, and theirs, is to look after their customers as a priority.
"We will continue to work closely with all parties until resolutions are reached."