Tube strike: Journey was a like a silent, polite rugby maul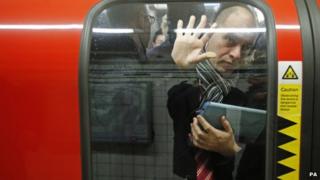 Many commuters will have experienced what I did this morning.
A grim, dreadful train crush of a journey more reminiscent of a silent, polite rugby maul.
While the buses, the roads (cyclists seemed to be the happiest today) and the trains have been very, very busy London Underground said it has been able to run some services.
Commuters I spoke to, though, said it was rammed and the trains were sporadic.
LU claims it ran eight out of 11 lines. The Rail, Maritime and Transport (RMT) union said there was a "skeleton service".
Again, raising the level of strike mandate has reared its head.
The mayor said he would like it in the Conservative Party manifesto. Others believe it's a distraction and this is really about poor industrial relations and political animosity and change management.
So are there any winners?
Politically, both sides will claim a sort of victory. Both sides say they will stand firm.
Can this staff redeployment actually be sorted through talks? Or will it get railroaded through? We will probably find out on Friday.
There are certainly losers - namely London's commuters and the capital's economy.