Tube strike: Crowds 'smile and bear' Underground walkout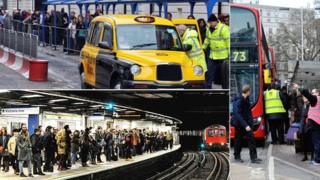 Millions of people faced delays during the first rush hour of the 48-hour strike by London underground workers. BBC News joined the queues to find out how people moved from A to B.
As promised, the gates of Oxford Street Tube station opened sharp at 07:00 GMT. Some hopeful commuters waiting outside rushed in.
Minutes later, staff announced the station was closing.
The walkout over Tube ticket office closures and job cuts was already under way and therefore not a surprise, but the announcement left those who had hoped to beat the chaos walking back up in frustration.
Manish Kerai, a bank trader heading to work in Liverpool Street, took a mainline train from Wembley Stadium after 06:00 GMT to Marylebone.
He walked to Oxford Street hoping to get on the Central line - only to be told it was not operating.
"I am going to have to take a bus now. At Marylebone there was a board saying some services are running, but obviously that's not the case," he said.
Michael Maslin, who had arrived from St Albans and was heading to Holborn, said: "I normally catch the Tube, the problem is I don't know all the bus routes."
I joined the relatively short queue on Oxford Street at about 07:25 GMT to get on a packed bus number 73 to Victoria Station.
It took less than 20 minutes, during which passengers were glued to their phones, planning the next part of their journey.
As the clock ticked past 08:15 GMT, the rush-hour was well under way at Victoria as people got off the mainline trains and headed for the Underground.
Many returned to the forecourt looking for buses after being told their destination was unreachable via the Tube.
The queues at the Tube ticket barriers were at least 15-deep, as station staff announced: "When it's safe we will allow you downstairs.
"Please bear with us... a very unusual day today."
Fiona Tai, 33, a jeweller from Hong Kong, was patiently waiting outside the railway station.
She landed at Heathrow Airport from Hong Kong at 04:30 GMT and only learnt of the strike when she went to the Tube station. Ms Tai then took a coach to Victoria, where she decided to wait until the rush-hour died down before taking a bus to Wapping.
"I think it would have been handy if the airlines were alerted (about the strike) and the pilot could tell everyone or if there were signs as you walked out of the gate," she said.
"If I was new to London I would have been in tears."
Hundreds who headed for buses had to join snaking queues, but the queue was fast-moving as Transport for London (TfL) had back-to-back buses waiting for passengers.
'Keep smiling'
There was the odd jostling and a sharp "the queue starts from back there" reminder from those waiting for a ride, but ambassadors in pink high-visibility jackets and station staff armed with maps and service updates seemed to be coping well and patiently helping confused commuters.
One steward said the crowd "sort of ebbs and flows".
Sgt George Pudney, a Met Police officer on duty at Victoria, said: "It's been an easy flowing day so far. We give tourists directions everyday so it's just normal to help commuters."
Civil engineer Allan Gavin said he was more than an hour late for work at Eastcote and had already changed buses twice to reach Victoria from his home in Clapham.
Armed with paper maps and mobile phone apps, he said: "I am trying to figure out how to get there."
Among those in the queue were Graham Burton, of Staines, and Ricky Horsman, from Rainham, who work as quantity surveyors. They were heading for a meeting at Holborn.
Mr Horsman started his journey at 04:30 GMT and had already taken a train and a water taxi before queuing for a bus at Victoria.
Mr Burton left home at 05:30 GMT and had walked from Vauxhall to Victoria after reaching London.
Explaining why they were cheerful despite the wait, Mr Burton said: "It's the only way you can be, as long as you keep smiling... or you would be crying.
"[I] feel like I have already done a full day's work. We are also discussing how to get back home."
Like Mr Burton and Mr Horsman, hundreds of commuters who have come to London are already planning their journeys back home.
And, of course, preparing to repeat the whole process again on Thursday.