Adoption of Muslim girl stopped after demo in Harrow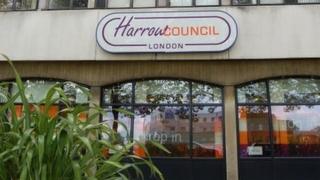 The adoption of a three-year-old Muslim girl has been put on hold by a north-west London council after protests.
The Victoria Climbie Foundation (VCF) campaign group said the issue was about "religious identity" rather than the sexual orientation of the prospective adoptive couple, who are both women.
The VCF said four family members had offered to adopt the girl, whose mother has mental health issues.
About 40 people demonstrated outside Harrow Civic Centre on 29 January.
Councillor Asad Omar, who was at the protest, said: "The child was being adopted by a lesbian couple and they (the family) were not happy with it because of religious and cultural reasons."
Harrow Council said the adoption had been "put on hold".
'Heritage concerns'
The VCF, which campaigns for improvements in child protection policies and practices, is assisting the girl's family, who are from the Somali community.
The group said the four family members who had offered to adopt the child felt the council did not properly assess them.
Mor Dioum, director of the VCF, said: "They were concerned about the child's religious and cultural identity and her heritage.
"The family want this case to be independently reviewed; it is not just a three year old it involves, there are also two other children.
"From our perspective, the issue was the due process rather than the sexual orientation," added Mr Dioum.
The VCF said the mother's two other children were in care.
Speaking to BBC London 94.9, Councillor Susan Hall said: "No minds have been changed, the situation has been put on hold just to make sure everything and every stage was done exactly as it should be."
She added that there was a shortage of adoptive parents from ethnic minorities.
"I stress that the most important thing is that it is a loving home and it is vital to get children placed as quickly as possible so they can get on with their lives," she said.
"I'm not at liberty to say who did or didn't (come forward to adopt) - all I know is nobody that was appropriate came forward who could have adopted."
On 27 January the family were told by Harrow Council that they had a final meeting with the child, the VCF said.
Two days later about 40 people from the Somali community held a protest outside a council building in Harrow about the adoption.
The deputy leader of the Independent Labour Group at the council added that the family had now been given until 7 February to come up with some people from the community who would consider adopting the girl.
A council spokesperson said the director of children's services had met some of the demonstrators to discuss how more community members could become involved in adoption.