Heston Blumenthal's Dinner restaurant in London shut by vomit bug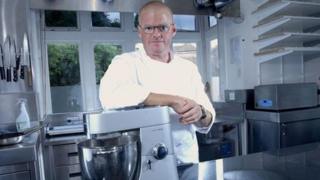 Chef Heston Blumenthal has shut his central London restaurant after it was hit by an outbreak of a vomiting virus.
A total of 24 diners and 21 members of staff were taken ill at the two Michelin-starred Dinner at the Mandarin Oriental hotel on Hyde Park due to the norovirus.
It was the same bug which forced him to close his award-winning Fat Duck restaurant in Berkshire in 2009.
Dinner's website said that it was expected to remain closed for a week.
James Armitage, the Westminster City Council's food safety manager, said: "The operators have now temporarily closed the restaurant and we believe this is the responsible thing to do.
"We have already asked the restaurant to improve some of its hygiene procedures - including telling staff to wash their hands more often. All the changes were made immediately."
The award-winning Fat Duck, in Bray, was closed for two weeks in 2009 following an outbreak of the winter bug that left more than 500 people feeling sick.
Speaking to the Mail on Sunday, the 47-year-old said his personal experience and knowledge of the virus meant he knew that it was best to "err on the side of extreme caution".
"I am very sorry for the inconvenience to those customers affected by cancellations," he said.
He said he aimed to amaze guests with "taste sensations beyond their imagination" rather than exposing them to a "really nasty couple of days of heaving".
Dinner opened in 2011, the restaurant specialises in historical English food and caters for about 1,000 customers a week.
A meal for two can cost around £190, and signature dishes include the Meat Fruit recipe from 1500 - a chicken liver mousse made to look like a mandarin orange.