Father's anger over son's flooded grave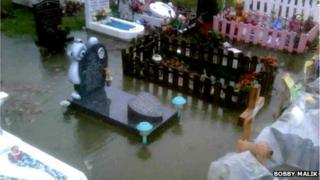 A father has said the cemetery where his son is buried is constantly being flooded, submerging the graves.
Bobby Malik said the recent heavy rainfall had made problems worse at Cherry Lane Cemetery in Hayes, west London, but said the problem had been on-going for many years.
His 18-month son Isaac was buried in 2010 and Mr Malik says Hillingdon Council has failed to fix the problem.
The council put in drainage, but said heavy rain could still cause flooding.
Mr Malik, 39, from Hayes, said he noticed the flooding problems just weeks after Isaac, who died of the neurological disorder Leigh's disease, was buried.
"When it first happened I spent six hours with a bucket trying to get the water out," he said.
He complained to Hillingdon Council which offered to move the body, but after advice from an undertaker he decided against it.
The council also put in two large underground tanks and drainage pipes that would lead the water into them.
But Mr Malik said the tanks regularly got filled and were not emptied very often, which meant water leaked from them create a huge puddle.
"The tanks were meant to be a short-term, temporary solution," Mr Malik said.
"In the meantime these graves, and there are 13 or 14 of them, are getting flooded.
"This has been incredibly frustrating and distressing.
"We had to watch Isaac suffer for the 18 months of his life and now we have this.
"I want him to rest in peace, not underwater."
Jean Palmer, from Hillingdon Council, said it had installed a French drainage system at the cemetery.
"We identified this as the best possible solution to address flooding risks, whilst causing minimum disruption to the graves in this section of the cemetery," he said.
"Unfortunately there are some instances in adverse weather conditions where further action is required.
"Exceptionally heavy rain in the last couple of days has caused further flooding and we have instructed our highways team to pump the floodwater off."