Tube strike: 14 ways to overcome it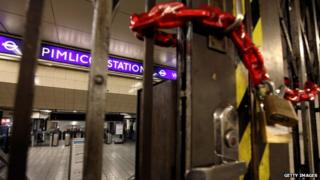 A Tube workers' strike - in protest at ticket office closures and the lost of 960 jobs - is set to severely disrupt the lives of Londoners and visitors to the capital for 48 hours from 21:00 BST. But the city can still be navigated - here are 14 ways to get around London without using the Tube.
1. Get the low down
You can get regular travel updates from the BBC London 94.9 travel team. You can also follow any disruption on the award-winning BBC London travel Twitter feed or on the BBC London Travel Page. And, of course, BBC London's Local Live service will be pulling much of this information together.
2. Catch the bus
Anybody seen in a bus over the age of 30 has been a failure in life, said somebody, although exactly who remains a matter of dispute. However, we can all agree the maxim does not apply on Tube strike day. Some 100 extra bus services will be provided on key routes. And make sure your pay-as-you-go Oyster card is topped up as a number of routes do not take cash.
3. Ride a bike
Contrary to what some believe, the chances of anything awful happening to you on two wheels are relatively small, even in London. Transport for London is urging people to ride a bike. But be warned, during past Tube strikes, the Barclays Cycle Hire Scheme has proved very popular.
4. Don't go to the office
You could "work" from home (pot of tea, long bath, annoying the cat with your unexpected presence). Perhaps tell your boss that you are actually "more productive" at home and cite the London School of Economics to back up what some might consider a rather iffy assertion.
5. Catch the Tube
Transport for London says it hopes to run some services. In the past, parts of some lines have stayed open, due to staff not being members of unions. Whether or not this transpires remains to be seen, but look for updates on the day.
6. Fly - sort of
The Emirates Air Line - a cable car which connects the Greenwich Peninsular and the Royal Docks - will be open as usual and London Underground tickets will be accepted on its services. So, if you have a travelcard (they are not normally accepted on the cable car) and you just fancy checking out the view, it's a good day to go.
7. Grab a taxi
A marshalled taxi service will operate at eight rail stations: Euston, Waterloo, Liverpool St, London Bridge, King's Cross, Victoria, Charing Cross, and Marylebone. The marshals will manage taxi and passenger queues and provide advice and assistance to taxi passengers. All black cabs have to be tall enough to accommodate a passenger wearing a bowler hat.
8. Stay with a friend
If you work in central London and happen to be friendly with any oligarchs, why not stay with them the night before to avoid the journey completely?
9. London Overground
Transport for London says Overground services will continue as normal. However, stations where there is an interchange with London Underground may be affected. The Overground travels through 21 of London's 33 boroughs, and 30% of all Londoners are within a 15-minute walk of a station.
10. Take to the water
Slow let us trace the matchless vale of Thames, Fair winding up to where the Muses haunt, wrote 18th century poet James Thompson. London is home to one of the world's most famous rivers, so why not use it? Enhanced river services will be in place for the duration of the strike.
11. Use a map
Transport for London says walking "may be an option" for shorter journeys. You might not be aware how close your destination actually is having never gone there except by Tube - apparently 30% of Londoners take longer routes than they need to because distances are misrepresented on the Tube map.
12. Docklands Light Railway
A normal service will operate but, as with the Overground, stations where there is an interchange with London Underground may be affected by the strike. More than half a billion journeys have been made on the the DLR since it opened in 1987. Curiously, one of the stations is called Mudchute.
13. Take a good book, make sure your tablets, phones and e-readers are charged
Let's face it, the chances are you will face some delays. So it could be the perfect opportunity for you to finish that book, get your best ever Candy Crush score or do some online shopping.
14. Move out of London
For all of its charms, and although it somehow muddles along, the capital city is in many ways a very testing place to live.
The 48-hour strike is due to begin at 21:00 GMT on 28 April. The second 72-hour strike is planned to start at 21:00 GMT on 5 May.