Boris Johnson offers to join Tube strike talks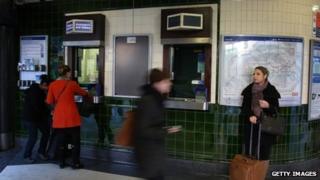 London Mayor Boris Johnson has offered to enter talks with the Rail, Maritime and Transport (RMT) Union if it calls off planned Tube strikes.
Mr Johnson called on the RMT to "engage" with Transport for London (TfL), saying if it did union leader Bob Crow could meet him on Monday.
Mr Crow had written to Mr Johnson urging him to "talk with us directly".
Members plan to strike for 48 hours on 4 and 11 February to protest against ticket offices closing.
Mr Johnson said Mr Crow's claim he was not interested in the dispute and was "blocking" TfL from the unions was "pure fantasy".
"So here's my suggestion to Mr Crow - call off the strike now and engage properly with TfL rather than walking away in the middle of a consultation as he has done, and he can meet me at City Hall on Monday morning," he said.
The mayor said he hoped he could work with the RMT to continue delivering a great Tube service "rather than holding this nonsensical threat over Londoners' heads".
'City Hall bunker'
In a letter to the Mayor of London, Mr Crow said: "With the action looming large next week, it is now time for Boris Johnson to get out of the City Hall bunker and start talking with us directly.
"He masterminded these cuts and it is now up to him to step up and start taking responsibility for the dispute that they have unleashed."
The RMT and Transport Salaried Staffs Association (TSSA) plan to walk out for 48 hours from 21:00 GMT on Tuesday and at the same time again the following week.
LU management and the unions have already held talks at the conciliation service Acas but the mayor has not yet been involved.
TfL said closing ticket offices would save £50m a year and would make more people available on platforms to help passengers.
LU's chief operating officer Phil Hufton said it was "committed" to making the changes without compulsory redundancies.