Veiled woman admits charge after jury is dismissed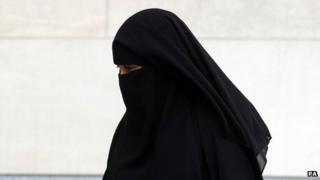 A Muslim woman on trial for witness intimidation has admitted the charge, after a jury failed to reach a verdict.
Rebekah Dawson, 22, had declined to give evidence on religious grounds after being told she had to remove her face veil.
The jury at Blackfriars Crown Court was discharged when they failed to reach a verdict.
After a short delay Dawson returned to court and admitted the charge, which she had previously denied.
Dawson, of Hackney, east London, admitted intimidating security guard Daudi Yusuf at the Finsbury Park mosque in north London in June, after he was involved in a row with her husband, Royal Barnes.
Judge Peter Murphy ruled in September that Dawson could wear her niqab in court but said she would have to let the jury of five women and seven men see her face if she gave evidence.
She had said it was against her religious beliefs to show her face to men.
Brother cleared
Earlier in the trial, the judge warned jurors to put aside any feelings they might have about her appearance because it would have nothing to do with the case.
During his summing up, the judge said: "This is not a ruling about religion. It is about the ability of the court to hear a fair trial."
The jury also failed to reach a verdict in the case of her brother Matthias Dawson, 32, who faced the same charge of witness intimidation.
Prosecutor Kate Wilkinson said the crown would offer no evidence against him following his sister's guilty plea and he walked free from court.
During the trial a police officer, who had been present when Dawson had her photograph taken after she was arrested last June, had to repeatedly go into a private room with the defendant to verify her identity.
The female officer then had to go into the witness box under oath and confirm that the woman under the veil was Dawson.
Dawson was released on bail ahead of her sentencing, the date of which has not been confirmed.
A judicial spokeswoman said the Lord Chief Justice was looking into whether judges need updated guidance on what could be worn in court.