Sultan of Brunei's daughter Afifa Abdullah 'duped over jewels'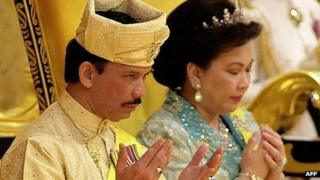 The adopted daughter of the Sultan of Brunei has said she was duped into handing over two diamond rings to a former bodyguard, a court has heard.
Afifa Abdullah said she lent the rings, belonging to the Sultan's ex-wife Mariam Aziz, to bodyguard Fatimah Lim in London to secure a property deal.
Ms Lim denies three counts of thefts in relation to jewellery items worth £12m.
Her lawyer said Mrs Aziz had actually asked her daughter to give Ms Lim the rings to pay off £3m gambling debts.
Isleworth Crown Court heard Ms Lim first worked as Sultan Hassanal Bolkiah's badminton coach before becoming a bodyguard to Mrs Aziz when the couple split in 2003.
'Like a sister'
Giving evidence, Ms Abdullah said Ms Lim had been "like a sister" and a "best friend" to her.
Ms Abdullah said that although she had felt uncomfortable about the arrangement, she agreed to Ms Lim's request to lend her some of the jewellery so she could show it to some property developers and claim to be wealthy herself.
The jury heard Ms Abdullah had handed over a 12.71 carat pear-shaped blue diamond and a rectangular yellow diamond of 27.10 carats, which she took from her mother's safe.
She handed over the yellow diamond, worth about £1m, over in the ladies' toilet of a London casino and the second diamond which was worth about £7m was given to Ms Lim outside a London property, the court heard.
The prosecution claims Ms Lim then sold the items to a jewellers in Hatton Garden in central London for a fraction of the price and replaced the jewellery with fakes.
Ms Abdullah said she found out that both items had been replaced when her mother asked her to take one of the rings, the pear-shaped diamond, to be resized. The other one was subsequently also examined and found to be fake.
The jury heard Ms Abdullah had travelled to Brunei to confront Ms Lim about the fake stones, who at first said she did not know about it but later allegedly admitted that she had borrowed the diamonds to try and demonstrate her wealth.
Cross-examining the witness, Ms Lim's defence lawyer Rupert Pardoe suggested Ms Abdullah was lying to protect her mother.
He suggested that Mrs Aziz had sold the diamonds herself to pay gambling debts and that Ms Abdullah had changed her story because she decided that her loyalty lay with her adoptive family and not with the defendant.
Mr Pardoe said: "Your mother wanted to sell these jewels, she asked you to give them to Fatimah Lim and you asked her to sell them... to pay gambling debts".
"No, that's not true" answered Ms Abdullah.
The case continues.