Some lorries without safety equipment in London to be fined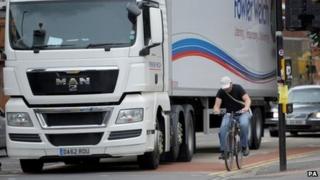 Some lorries in London may face "hefty" fines if they do not have special safety measures to protect cyclists.
Lorries weighing more than three-and-a-half tonnes may have to be fitted with special mirrors to improve drivers' views and side guards to stop cyclists from being dragged under wheels.
Boris Johnson said lorries without them could face a "hefty charge" but has not gone into details about actual amounts.
The fines could come into force by the end of 2014.
A formal consultation would still have to be held before the fines can be implemented and legal procedures would have to be put in place.
The mayor's office said the rules would be enforced by CCTV cameras and on-street checks.
There were 14 cyclist deaths in London last year, nine involving HGVs.
The proposals have been drawn up by Mr Johnson's office, Transport for London (TfL) and London councils.
'Close the gap'
"Neither I nor the boroughs have the power to ban lorries without safety equipment on our own.," said Mr Johnson.
"It was for that reason that I proposed to use a power I do have, to levy a hefty charge on lorries without such equipment."
The mayor's office, which said it hoped the proposals would effectively lead to a ban of unsafe lorries from the capital's roads, has yet to determine the actual amount drivers and haulage companies would be fined.
The London Cycling Campaign, a charity which supports cyclists in the capital, said it welcomed the mayor's proposal to "close the gap in current legislation", but argued more could be done.
Charlie Lloyd, from the group, said: "Although we support the gains to be had from these measures, they're likely to be far less significant than if the mayor ensured that every lorry driver in London had cyclist-awareness training, and every lorry was a 'Direct Vision' model, with larger windows and glass doors, allowing the driver to see cyclists all around the vehicle."