Iceland bin theft accused 'will take unused food again'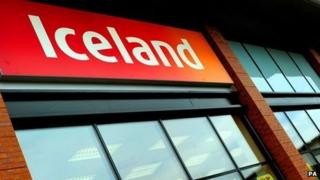 A man who was accused of stealing food from bins outside an Iceland store has said he will continue to take "unused food".
Speaking to BBC Radio 4, William James said: "I think it is wrong for people to try and lock this away."
Mr James, Paul May and Jason Chan were arrested in Kentish Town, north London, in October. The case against them was dropped by prosecutors on Wednesday.
His lawyer Mike Schwarz believes the case was dropped after media pressure.
'Car crash PR'
The men had denied charges brought under the 1824 Vagrancy Act.
They were expected to say they had been "skipping" - a term used for taking food from a bin or skip that would otherwise go to waste.
When asked on the Today programme on Radio 4, whether he would take food from bins again, Mr James replied "Yes".
The 23-year-old said he would not feel guilty about his actions as he was not stealing but taking "unused food".
"I don't think it belongs to anybody, it is in a bin and no-one wants it. I don't think it is a problem," he said.
He added that although he "would prefer not to have to climb over the fence", he lived with other people who could not afford food.
He said: "I couldn't afford to feed everyone I live with and I don't want to eat on my own."
Mr Schwarz, from law firm Bindmans, who represented the three men, said he thought the supermarket had seen the prosecution as a "car crash in PR terms".
"What is so unnerving about this is that Iceland professed to have known nothing about this until yesterday when in fact their duty manager gave a statement right from the beginning. He was going to be a prosecution witness," he said.
On Wednesday the CPS said Iceland had made representations that "affected our assessment of the public interest in prosecuting".
Iceland said a duty manager had been aware of the arrests but the company had not known about the intended prosecution.
In a statement, the supermarket said: "The police did not attend at Iceland's request and no-one at Iceland had any knowledge of the intended prosecution until the media reports of the case appeared on Tuesday, 28 January."