Met and mayor put forward case for water cannon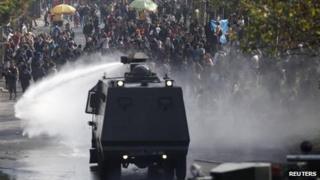 Three water cannon could be purchased to use during times of unrest in London, but are not a "silver bullet", the London Assembly has heard.
The Metropolitan Police and Mayor of London Boris Johnson want to buy three cannon from Germany for £90,000.
The mayor said they would be used as a "very rare beast". They have been linked to causing broken bones and blindness.
The cannon will be purchased if Home Secretary Theresa May licences them.
During the police and crime committee meeting, Assistant Commissioner Mark Rowley said Scotland Yard had identified six occasions over the past 12 years when a cannon could have been used, including at student protests.
'Credible tactic'
He said: "When their [protestors] obvious objective is attacking a fixed location, such as Parliament, such as an embassy, such as the Millbank buildings, then you've got a small group of highly violent people... posing a lot of risk to the public.
"In those situations it's potentially a credible tactic.
"We're not going to use it against a small number of violent people in the midst of thousands of peaceful people. We are not presenting it as a silver bullet for all serious disorder."
A public consultation is currently being carried out and a final decision by London policing authorities over whether to proceed is expected in February.
Mr Johnson said: "It's highly likely that we will very rarely see these things on the streets of London, if ever.
"The question is how can we live with ourselves if we fail to give the police the capability in certain circumstances to avoid risk of injury?
"This is going to be a very rare beast indeed."