Docklands Light Railway strikes cancelled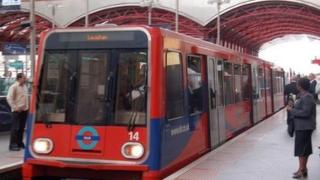 Two 48-hour strikes planned by workers on the Docklands Light Railway (DLR) have been cancelled.
The RMT Union said that members had agreed to accept pay offers from the contractor Serco Docklands.
The first strike was scheduled to start on 29 January, followed by a second strike on 4 February.
The strikes were announced by the RMT earlier this month after a dispute between staff and the operator Serco over pay and industrial relations.
RMT General Secretary Bob Crow said the strike had been called off after the union received "an improved offer on pay and across range of other issues".
Kevin Thomas, managing director of Serco Docklands, said they were "pleased to have reached a positive conclusion".