Buckingham Palace sentry box auctioned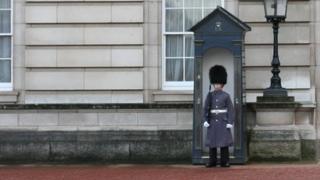 A royal sentry box that stood in the forecourt of Buckingham Palace for a large part of the 20th Century is going up for auction.
The navy blue sentry box, which was one of four replaced in 1992, also contains graffiti dating back to 1955.
After being replaced it was given to Sir Blair Stewart-Wilson KCVO, Deputy Master of the Royal Household.
The auction will take place at Bonhams on 29 January, where the shelter could fetch between £5,000 and £7,000.
Charlie Thomas, the director of furniture at Bonhams, said: "It is something I have never sold before and not anything I can see that anyone else has sold."
'Unexpected' graffiti
Graffiti on the inside of the box, which sheltered soldiers of the Household Division on guard duty outside the palace, gives an indication of how long it was in service.
Mr Thomas said: "There are quite a few initials and names in the sentry box and also there is one girl's name, a soldier's sweetheart maybe, 'Cindy' carved into it".
Sir Blair, who died in 2011 at the age of 81, had asked for the box after learning before he retired that it was being replaced.
He is believed to have taken it to his house in Somerset where he kept it in his garden.
What became of the other three boxes is unclear. It is thought at least two of them were saved for use in the Royal Mews.
But the sentry box going under the hammer is missing one key detail.
The Royal cypher, ERII, which had been on the box's pediment, was painted over during restoration.