Battersea Dogs and Cats Home offers help to rid Parliament of mice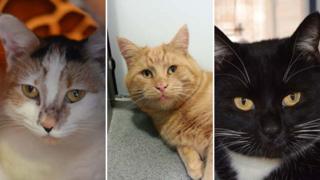 Battersea Dogs and Cats Home has suggested a shortlist of cats which it thinks could help tackle a mice problem at the Palace of Westminster.
The buildings are said to be infested with the vermin, with MPs saying they have seen mice, mouse droppings and nibbled corners on official documents.
Pauline Latham, MP for Mid Derbyshire, said she would like a cat to take care of the mice in her office.
The animal rescue centre said it had offered three cats to Westminster.
They are a three-year-old black and white cat named Jill who has experience of exterminating mice in her last home, Finn, a four-year-old ginger who "will pounce on anything that moves" and one-year-old Bloom who "has a cheeky and cunning side".
The centre said Finn arrived in early December, Jill in late November and Bloom in January.
It has 190 cats at its three centres currently looking for a new home.
MP Anne McIntosh, chair of the House of Commons EFRA Select Committee, raised the issue with Leader of the House Andrew Lansley last year.
The charity said it was waiting for Mr Lansley to make a decision.
"I am thrilled and delighted to work closely with Battersea Dogs & Cats Home," said Ms McIntosh.
"In my view, provided the situation was controlled with care, particularly considering the welfare of those allergic to cats, the best way to control and eliminate the mouse problem in Parliament would be a rescue cat."