Crystal Palace planners denied Heritage Lottery funding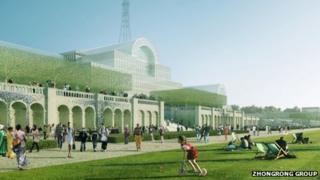 Organisers behind a project to improve Crystal Palace Park have said they are still committed to the project despite the Heritage Lottery Fund turning down an application for £5m of funding.
Bromley Council and ZhongRong Group are working on plans to build a new Crystal Palace, on the site of the original structure, and improve the park.
Councillor Stephen Carr said the news was "disappointing".
He said they were comfortably confident the project would still go ahead.
Chinese Investment Group ZhongRong Group announced a £500m investment in the plan in October last year.
The original Crystal Palace was built in 1851 in Hyde Park but was moved to Crystal Palace in 1854. It burnt down in 1936.
An online open letter by resident Karl Richter, calling for more clarity on how a deal with two private companies could assure the protection of the site and how it would be used in the public's interest, has reached 1,000 signatures.
Mr Carr said the project had secured a £2m grant from Greater London Authority.
"We are absolutely committed to securing much needed improvements at Crystal Palace Park and this latest news is clearly disappointing.
"We now all need to remain focused on the long term and re-examine potential options as to how best we can generate improvements in the short term which would also support the long term objectives."
The Heritage Lottery Fund cash would have been used to improve visitor facilities and fund a number of activities to attract visitors to the park, according to Bromley Council.
There will be a year of consultation and design development before plans are formally submitted in autumn 2014.
The Heritage Lottery Fund was unavailable for comment.