Thieves steal artist's van containing his life's work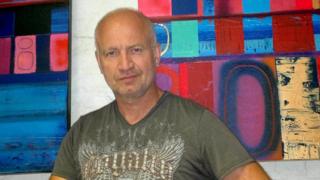 An artist has said he lost his life's work when his van was stolen in north London.
More than 70 large canvasses by Jon Astrop were in the white Ford Transit van stolen from Schoolway, near Woodhouse College, in North Finchley.
Mr Astrop said the canvasses were his "entire collection of works" that he exhibited in pop up shows.
He has appealed to those responsible to return his work, which includes street art and landscapes.