Hammersmith Bridge closed for urgent repairs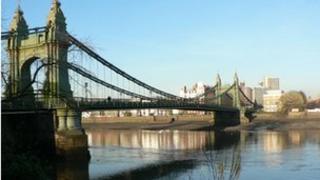 Hammersmith Bridge will be closed over four weekends while urgent repair work is carried out.
Steel panels on the road that stop vehicles skidding are "failing to work properly", so have to be replaced, according to Hammersmith and Fulham Council.
Repairs to wooden decking panels on the 126-year-old bridge over the River Thames in west London also have to be carried out.
Work will last until late February.
The bridge surface also has several potholes which have been patched up temporarily.
Councillor Victoria Brocklebank-Fowler said the work was unavoidable.
"They must be done now, to make sure the road surface holds up for the next decade," she said.
The bridge is closed this weekend and will be for three consecutive weekends starting on 8 February, from 08:00 on Saturday to 05:00 on Monday.