Met Police probed scores of clown incidents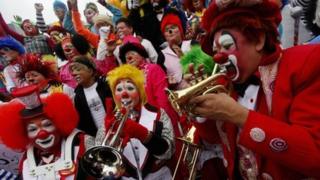 Police in London tackled scores of incidents involving clowns last year, it has emerged.
A Freedom of Information request revealed the Metropolitan Police responded to 117 incidents featuring the word "clown".
They included assaults, frauds, thefts and robberies involving people dressed as clowns.
London blogger Richard Osley, who put in the FOI request, said some of the incidents were "no laughing matter".
One incident involved a robbery victim who was wearing a black and white Pierrot suit while in another a robbery was committed by someone wearing a clown mask.
In one burglary case the suspect's hair was described as like "Krusty the Clown" from the TV comedy The Simpsons.
And in a "malicious communication", someone was told that "henchmen in clown masks" would be on their way
Five of the incidents involved victims dressed as clowns while in about 40 instances the victim was called "clown as an insult", details from the Met reveal.
Mr Osley said he put in the FOI request after seeing a spate of news stories over Christmas involving clowns.
He said on his blog: "This one isn't for anybody with a clown phobia... Don't look now, but the news is this: London is not totally immune to Britain's clown crime wave."
There were also reports of jewellery and property with clown motif being stolen.