Laszlo Gyarmati guilty of Mill Hill body in suitcase murder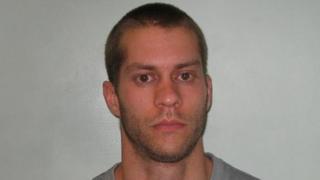 A man who strangled a woman before hiding her body in a suitcase and dumping it in a north London park has been found guilty of her murder.
Laszlo Gyarmati, a Hungarian national who lived in Finchley, killed Alexandra Kovacs last July.
Her body was found after police searched a wooded area in Thornfield Avenue, Mill Hill.
On Friday, he was jailed at the Old Bailey and was ordered to serve a minimum of 17 years.
The Met said Gyarmati and Miss Kovacs, who was also a Hungarian national, had met months previously when they briefly met at the same property.
On 17 July, they went to a fast food restaurant before heading back to Miss Kovac's home just before 23:00.
At 03:00 the next day, neighbours heard a female scream and call for help.
The court heard that at 07:30, Gyarmati was filmed on CCTV leaving the property with a large suitcase that contained her body. He walked to Dollis Valley Greenwalk where he dumped it near some bushes.
The victim was reported missing by her friend on 20 July, and the next day, police dogs were despatched to the area and found her body.
Det Ch Insp Nicola Wall said: "Alexandra was a young woman starting out in life when she was killed by Laszlo Gyarmati. She was working very hard sending money back to Hungary to her mum and younger brother.
"Alexandra knew Gyarmati and was happy to be in his company that evening. She obviously had no thoughts that he would hurt her. Sadly, he betrayed that trust in the ultimate way.
"After he killed her, Gyarmati took steps to cover his crime by callously putting her body into a suitcase and secreting it in local woodland.
"Our thoughts are with her family who have been in London throughout the trial."