Victoria Tube line reopens after wet concrete flood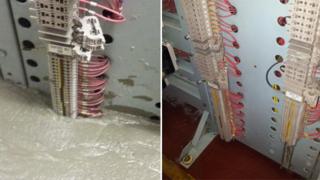 The Victoria Line through central London has reopened after wet concrete flooded a control room, causing massive disruption to travellers on Thursday.
The concrete was being used to "fill voids" during upgrade work at Victoria station.
Signalling equipment was damaged as the liquid ran out of control.
Services were suspended between Warren Street and Brixton but staff worked through the night to reopen the line in time for the Friday rush hour.
A London Underground (LU) spokesperson said the damage was caused by contractors, who working in an area of the station next to the Victoria line signal control room.
Thousands of commuters had their journeys home disrupted as trains were halted on the busiest section of the line.
Peter McNaught, the Victoria Line's operations director, said the clean-up operation was started as soon as it was known what had happened and involved technical staff checking each wire individually.
He said: "The people actually removing wires one at a time. It's actually quite a cramped environment, it's down at ground level, so we had about eight technical officers working in half-hour shifts crouching down and removing these wires.
"Because of the safety critical nature of the wires, every single change to the wiring has to be double-checked by an independent person.
"At 03:56 we ran our first test train through the area, that was completed by 04:25.
"After that we did a second pass of a test train in both directions before we were happy to announce and hand back the Victoria line at 05:00.
"It's a real credit to the staff that worked overnight to make it run."
He added: "With the size and scale of the upgrades we're doing across London Underground very occasionally we have an unfortunate incident like this.
"We will carry out a full investigation with our contractors and partners to understand how this has happened and put steps in place to prevent it in the future."
Website Us Vs Th3m reported that about three rows of relay equipment were submerged in the concrete and published a number of pictures of the concrete spill.