Victoria Tube line part shut hit by wet concrete flood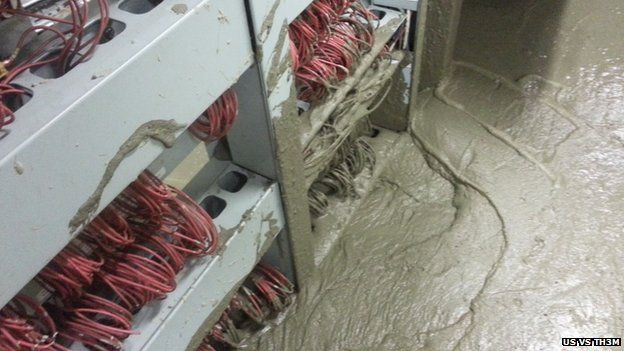 Part of the Victoria London Underground line has been suspended after wet concrete flooded a control room.
Transport for London said the mixture of concrete and water was being used to "fill voids" while upgrade work was being carried out at Victoria Station.
The line has been suspended between Warren Street and Brixton.
Peter McNaught from London Underground (LU), said it would not run for the rest of the night, and that services would start later on Friday morning.
The operations director for the Bakerloo, Central and Victoria lines, said: "We apologise for the delays and disruption to passengers travelling on the Victoria line today.
"Our engineers continue to work hard to repair the damaged equipment and get the line up and running as soon as possible. "
LU said the damage was caused by contractors, who were working on the new station in an area next to the Victoria line signal control room.
The equipment was damaged when water and cement leaked into a room containing it.
Passengers are being advised to use the Northern and Bakerloo lines and replacement buses are running between Green Park and Brixton.
Customers travelling to interchange with national rail services from Victoria station can also use the District line to St James' Park station which is a five minute walk from Victoria station.
Tickets will continue to be accepted on South Eastern Trains, South West Trains, Greater Anglia, London Overground and London Buses via reasonable routes.
The RMT union said: "LU technicians are on site now working flat out to clear up the mess and get services back on line, proving once again that it's directly employed public sector staff who are needed to deal with this kind of emergency, making a nonsense of Boris Johnson's Tube staff cuts plans."
The union is set to take strike action from midday on 4 and 11 February, for 48 hours, over LU's plans to close all ticket offices with the loss of 750 jobs.
The transport authority has said the closures will lead to more staff on platforms to help travellers and that the Tube would run 24 hours a day on five lines.
TfL has yet to comment on the union's statement, however Phil Hufton, LU chief operating officer, has previously said it is committed to implementing changes without compulsory redundancies.
Related Internet Links
The BBC is not responsible for the content of external sites.