London Underground strike: 'Ambassadors' to help travellers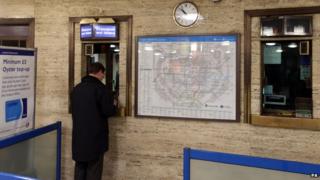 Hundreds of Tube "ambassadors" are set to help people travel around London if two planned 48-hour strikes go ahead.
Transport for London (TfL) said the staff would help "beat totally unnecessary industrial action". The strikes are due to take place from midday on 4 and 11 February.
The RMT union has arranged the action in protest at plans to close all ticket offices with a loss of 750 jobs.
It said the idea of using "scab volunteers" was "dangerous nonsense".
'Committed to change'
The measure is aimed at reducing disruption and will be staffed by trained TfL and London Underground workers who have volunteered to work shifts on the strike days.
They will be deployed to keep stations open and offer advice on alternative travel options.
Phil Hufton, London Underground's chief operating officer, said the plans for ticket office closures would mean more staff on platforms to help travellers.
He said less than 3% of all Tube journeys involved a ticket office payment and the proposals also included a 24-hour service on five Underground lines.
TfL added that the plans would save it £50m a year when it is facing a budget reduction of about £78m in the financial years of 2013 and 2014.
Mr Hufton said: "We're also committed to implementing these changes without compulsory redundancies.
"Given these assurances, we urge the RMT and TSSA union leaderships to end their strike threats and to work with us to shape the future of the Tube."
'Another gimmick'
RMT General Secretary Bob Crow said: "The idea that a scab army of volunteers can replace the work of thousands of engineers, drivers, technical and station staff is dangerous nonsense and senior London Underground officials know that.
"They are conning the public and trying to throw up a smokescreen over the real impact of their cash-led cuts programme."
TSSA rail union leader Manuel Cortes said: "This is yet another gimmick by our publicity-obsessed mayor which shows he is determined to force an unnecessary showdown with the rail unions to further his own naked political ambition.
"His so called ambassadors are merely management strike breakers who will not be able to run anything like a full Tube service if the strike goes ahead in 13 days' time. "
London Underground and the RMT have been in talks with conciliation service ACAS this week, but they are yet to conclude.
The RMT has also announced two 48-hour strikes on the Docklands Light Railway in a dispute over pay and working conditions.
The first will begin on 29 January with the second starting on 4 February and coinciding with the first Underground strike.