Judge warns jury over religious prejudice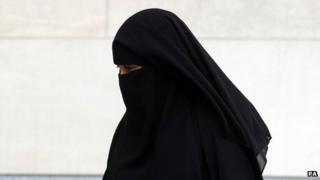 A judge has warned a jury at the trial of a Muslim defendant wearing the full-face veil that it would be "quite wrong" to be prejudiced against a person's expression of religious faith.
Rebekah Dawson, 22, is on trial for alleged witness intimidation at Blackfriars Crown Court in London.
Judge Peter Murphy said Ms Dawson was "fully entitled" to dress as she chooses.
He added that jurors should "put aside" any feeling they may have on this.
'Witness demeanour'
Judge Murphy said: "It would be quite wrong to be prejudiced against anybody because of their expression of their religious faith. It is very important you understand that.
"I emphasise that Rebekah Dawson is fully entitled to dress in any way she chooses, if you have any feelings about that, put them aside because they have nothing to do with the case."
Judge Murphy was speaking as he upheld a ruling he made in September that Ms Dawson could stand trial wearing the full-face veil, but she had to remove it when giving evidence.
The judge told the jury that he had not made the ruling "arbitrarily".
"I have done this because of this - that courts have known for many, many years, indeed centuries, that when a jury is evaluating evidence a witness gives it is important for them to see the witness as well as listening," he said.
"In other words, you have to see the demeanour of the witness and reactions to the questions being asked."
Ms Dawson, formerly from Stroud Green, north London, is due to stand trial alongside her brother Matthias Dawson, 32, from Sydenham in south-east London, on a single charge of witness intimidation.
The prosecution is expected to open its case later.