Mary Konye's row with Naomi Oni led to acid attack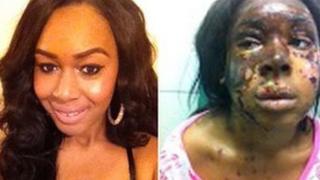 A simmering row between former school friends ended in one dousing the other with sulphuric acid after they had traded insults over their looks. Mary Konye denied the attack but it was data from her mobile phone and Oyster card which helped a jury find her guilty.
Naomi Oni was on her way home from a busy shift at Victoria's Secret lingerie store in the Westfield shopping centre in Stratford, London, at the height of the Christmas sales in 2012.
The 21-year-old had just got off a bus in Dagenham when she felt a "presence" behind her.
Mary Konye, wearing a face veil as a disguise, had followed her old classmate before flinging acid towards her face.
"I immediately felt that someone was trying to kill me," Miss Oni said. "My instinct was to run as fast as I could to get home."
'Ugly monster jibe'
Afterwards, Konye, also 21, posted a none too subtle reference to the attack online.
She uploaded a photograph of Freddy Krueger's melting face from the film, Nightmare on Elm Street, and asked "Who looks like Wrong Turn now?"
Snaresbrook Crown Court was told how, as school friends, the women would joke about the horror movie Wrong Turn, which features cannibals with deformed faces.
The film was not Konye's only inspiration.
Jurors heard how she planned a copycat attack on her childhood friend, knowing she was affected by the story of Katie Piper, the aspiring model and TV presenter partially blinded and burned by acid in 2008.
Baljit Ubhey, the chief crown prosecutor for London, said Konye had originally denied being in the area or following Miss Oni, only for analysis of her mobile phone and Oyster card to prove otherwise.
"The cell site analysis showed that her mobile phone was in the location where the victim lived," Ms Ubhey said.
"She had texted the Transport for London number for bus times after the attack had occurred very close to the victim's address.
"Her Oyster card also placed her on the bus, following Miss Oni home."
In court Konye, a Hertfordshire University business and finance student, claimed she was the victim of a "conspiracy" and that the "attack" had been concocted in an attempt to find her friend fame and fortune.
She eventually admitted following Miss Oni on 30 December, but insisted her former friend had used the attack on Miss Piper "as a reference" before pouring the acid on herself.
The jury was told how Miss Oni had earned £3,000 after the attack for media interviews and that her laptop's internet search history disclosed regular browsing for articles on Ms Piper, other acid attacks and plastic surgery.
Miss Oni suffered burns to her face and lost part of her hair in the attack. She has undergone skin grafts since.
During the trial Konye's often fraught friendship with the victim was laid bare.
Witnesses told how she threatened to throw acid over her as revenge for being called an "ugly monster" during a row about a text message sent to Miss Oni's boyfriend.
The pair had a "rocky relationship", the court heard, and did not speak for months after the texting row in 2011.
Konye was "obsessed" with Miss Oni and insecure about her own looks while Miss Oni admitted the pair had traded insults about their appearance.
The day after the attack Konye sent a text message to Miss Oni saying: "OMG, can't believe it."
Eight weeks later, she was arrested.
Ms Ubhey said Konye, of Canning Town, east London, had "lied from the outset".
"She's tried to adapt her lies based on the evidence that has come out," she said.
"That someone who you regard as a friend could do this to you is very chilling and to almost brag about it afterwards… paints a picture of a very disturbed young woman.
"That someone who you trusted and had a long friendship with would choose to do this to you because of their own insecurities is, I think, devastating."