Murderer Lerone Boye arrested in Chigwell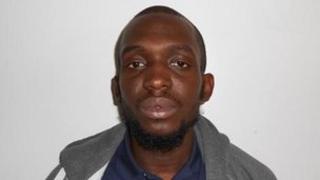 A convicted murderer who went on the run from a mental health unit in east London has been arrested in Essex.
Lerone Boye, 27, was jailed for a minimum of 28 years in December 2012 for stabbing 17-year-old Kelvin Chibueze to death at a party in 2011.
Boye absconded from the John Howard Centre in Homerton on 16 October.
The Metropolitan Police said he was arrested in a planned operation at 16:00 GMT at a house in Elderberry Close, Chigwell and remains in custody.
The Met and Crimestoppers offered a combined reward of £15,000 for his capture, but Scotland Yard said it would not currently be releasing information as to whether someone would be awarded the money.
A 29-year-old man, Dean Ablakwa, from north London, who worked at the John Howard Centre, has been charged with helping Boye escape.