Leicester Square's Odeon cinema to be demolished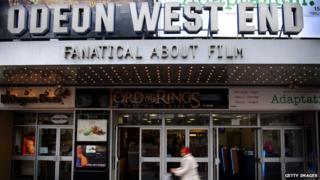 Plans to knock down one of Leicester Square's oldest cinemas to make way for a hotel have been approved.
The Edwardian Group will replace the Odeon Cinema West End with a ten-storey block comprising a hotel, spa and a two-screen cinema.
Objectors had claimed the scheme would damage the "cherished heritage" of Leicester Square.
But Westminster City Council said the development would create 400 jobs.
Deputy leader of the council, Robert Davis, said: "This will bring a renewed vibrancy to one of London's most exciting areas and provide a new focal point for Leicester Square itself.
Banqueting suite
"I think it will be a superb addition to the spiritual home of British entertainment and cinema."
The development will also mean £2.9m will go to affordable housing and any flats lost from the current building will be replaced.
The cinema has been on the south-west corner of the square since it opened in 1930, but is not the one used for premieres and the council said large parts of it currently lie empty or are in need of restoration.
Jasminder Singh, CEO of Edwardian Group London said it was "great news" for the West End and paved the way for "redevelopment of an iconic London destination" which Odeon supported.
He said: "It will provide London with a modern destination hotel, fulfilling the demands of the future visitor to the capital, as well as those living in the city.
"Additionally, we believe this will strengthen Leicester Square's position as Europe's flagship red carpet destination."
English Heritage said it objected to the proposal as it would demolish a "swathe of buildings which make a vital contribution to the architectural and historic character, appearance and significance of Leicester Square".
It said the development would "tower over the National Gallery, a grade I listed building and harm both the historic setting of that building and that of Trafalgar Square".