London Underground strike talks to take place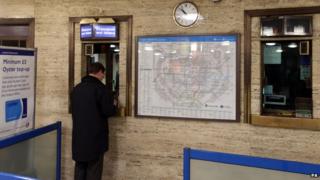 Talks aimed at averting strikes by Tube workers over ticket office closures are to be held on Tuesday.
Members of the Rail, Maritime and Transport (RMT) union are due to stage two 48-hour walkouts on 4 and 5 February, and 11 and 12 February.
They are protesting against plans to close all ticket offices and axe 750 jobs.
Transport for London wants to close all ticket offices and have staff on platforms instead to save £50m a year.
The Transport Salaried Staffs Association (TSSA) is balloting its members, with the likelihood of co-ordinating industrial action.
RMT general secretary Bob Crow said the conciliation service Acas had convened a meeting on Tuesday.
He said the union would "enter the talks in good faith".
"We hope that the company are serious about conciliation and not just going through the motions and playing games when so much is at stake for Tube users and staff."
'Cynical attempt'
London Underground (LU) managing director Mike Brown urged the TSSA to call off their ballot and said that the union had openly supported the main elements of LU's plans to improve customer service.
He said that given TSSA's "priorities to improve customer service, it seems very strange and completely unnecessary for the leadership to be balloting its members for strike action and all the disruption to Londoners that would entail".
TSSA leader Manuel Cortes said that "coming four days into our ballot", Mr Brown's comments were "a cynical attempt to persuade our members to vote no by the time voting finishes next Monday".
"The statement makes no mention of the 953 jobs being axed and the removal of permanent station supervisors."
London Underground (LU) chief operating officer Phil Hufton said customers and staff were "at the heart of our vision for the future of the Tube".
"All Tube stations will remain staffed at all times when services are operating," he said.
"In future, there will be more staff in ticket halls and on platforms to help customers buy the right ticket and keep them safe and secure."