Overhead cable damage disrupts trains from London's St Pancras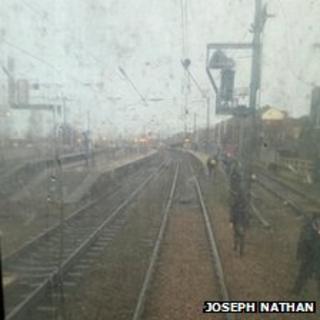 Damage to overhead lines in north London has caused severe disruptions to trains to and from St Pancras station.
About 1,700 passengers were led along railway tracks from five First Capital Connect trains after damage to the overhead lines in the Hendon area.
Network Rail said its engineers were at the scene and work continues to repair the damage.
Some service has resumed on East Midlands Trains. First Capital Connect and Southern trains were also affected.
'Difficult morning'
The disruption was likely to last several hours, Network Rail said.
Service has resumed on two of the four 'fast' lines in Hendon allowing East Midlands Trains to ply between Bedford and St Pancras station, National Rail said.
But passengers are being warned to expect delays and amendments to the timetable. A half-hourly service is operating between St Albans and Bedford.
First Capital Connect passengers are being urged to take the East Midlands Trains service between St Pancras and Bedford and use London Midland services between Bedford and Bletchley.
On Southern trains there is no service from St Pancras to Kentish Town, Sevenoaks and Blackfriars.
Network Rail apologised to passengers for the disruption.
First Capital Connect said it had been a "difficult morning" for passengers on their Thameslink link route.
There was no effect on the Eurostar service from St Pancras International station.