New London transport fares come into effect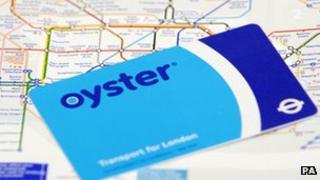 The cost of bus, tram and Tube journeys has increased as new fares for 2014 come into effect in London.
Fares have gone up in line with inflation, Transport for London (TfL) said.
Single bus and tram fares on Oyster smart cards have gone up by 5p to £1.45.
Peak and off-peak single fares on the Tube, DLR and Overground Zone 1 and off-peak single Zone 1-2 have risen by 10p, while cash fares increased by 20p.
Emirates Air Line cable car prices also rose by 10p but one-day fare caps on Oyster and contactless cards are unchanged.
'Inflation-busting fares'
TfL delayed the introduction of new fares after the government decided to cap rail prices at the retail price index instead of RPI+1%.
Mayor Boris Johnson, who had already announced travelcards would go up by 4.1% (RPI+1%), had to readjust the prices.
Shashi Verma, director of customer experience at TfL, said: "No-one's happy putting up fares but they need to go up because the cost of running the network goes up as well."
Labour said bus passengers and travelcard users had been hit with "inflation-busting fare rises", with the cost of a Zone 1-4 annual travelcard up £122 to £1,800.
Val Shawcross, London Assembly Labour Group Transport spokeswoman, said: "He is saving people £4 a year on their council tax but is taking vastly more from them in higher transport fares."
The fare increases have also been criticised by the RMT union.
Janet Cook, from passenger watchdog London TravelWatch, said people were having to pay "an increasingly large share of their regular income on commuting".