Disabled people locked out of Tube due to staff shortages, says charity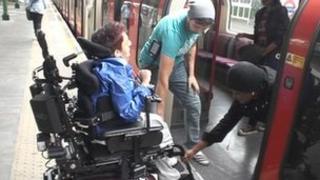 Disabled people were locked out of London Underground (LU) stations 162 times last year, a charity has said.
Transport for All said instances of disabled people not being able to use lifts because of a shortage of staff have more than tripled since 2009.
A freedom of information request showed step-free access was unavailable at "accessible stations" for nearly 500 hours in 2013.
LU said it was investing millions to make the network more accessible.
The figures also showed on six occasions passengers had to wait more than 10 hours before access was restored, with the longest wait more than 18 hours.
Travel spontaneously
The stations which most frequently closed their lifts because of staff shortages were West Brompton and Wood Lane, which closed 40 times and 27 times respectively.
Lianna Etkind from Transport for All said: "Disabled and older people should be able to travel spontaneously.
"Already, large swathes of the Tube are out of bounds to those who can't manage steps. We are extremely concerned that planned staff reductions will further reduce our ability to travel with the same freedom and independence as everyone else.
"TfL have invested millions on installing lifts and it's ridiculous when short staffing means these lifts become unavailable."
London Underground's Phil Hufton said: "We are investing hundreds of millions of pounds in making the network more accessible through the use of new trains, lifts, raised platform sections, boarding ramps and other improvements.
"We have staff available at every station when services are running and always try to make sure that, for every station with a lift, staff are available to look after it.
"These figures shows that, at the 26 stations that appear in the list, step-free access was available for 99.8% of the time that the stations were open."