London visits hit record levels, figures suggest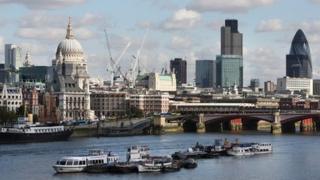 A record 4.9 million visits were made to London between July and September 2013, according to new figures.
In the first nine months of 2013, London saw 12.8 million visitors, an increase of 12% compared to the previous year, the Office for National Statistics (ONS) figures suggest.
The previous record for visits in July to September was 4.7 million, in 2006.
Mayor Boris Johnson said the figures proved London was the "greatest city on the planet".
International tourists also spent more that £3.37bn on shopping and visiting attractions during the summer, it is claimed.
The amount visitors spent in 2013 increased by 5% compared to the previous year.
City guide website VisitLondon estimates that when the completed statistics for 2013 are released later this year they could prove the capital welcomed 16 million overseas visitors in the calendar year.
Provisional estimates show visitor numbers also increased across the whole of the UK with an 8% rise in overseas visits between July and September.
In the first nine months of 2013 there were nearly 25 million international visits to the UK, a rise of 11% year on year.
Mr Johnson said: "With so many fascinating museums, the best theatre scene in the world, more green space than any other European city, numerous top sporting venues, a low crime rate and much else besides, it is no wonder that people from all over the globe are flocking to London in record numbers."
The ONS figures are calculated by counting the number of visits to the UK.
Anyone entering or leaving more than once in the same period is counted on each visit.