High Court blocks Chadwell Heath school's academy conversion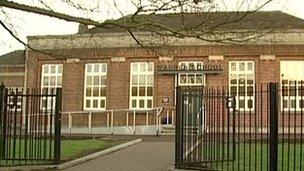 The High Court has stopped an east London school from being converted into an academy until consultations on possible alternatives have taken place.
Mr Justice Collins granted an injunction preventing the Warren Comprehensive School, in Chadwell Heath, being moved into academy status.
The 1,285-pupil school has been placed in "special measures" by Ofsted because of its poor performance.
The Department for Education said it would appeal against the decision.
'Cat's whiskers academies'
The school governors said they were "delighted" at the judge's action.
"We want all the options to be considered without disruption to the children's education, and then whatever decision is made the (current) governors will accept," said Sarah Jane Scrace, chairman of the governors.
It is believed to be the first time that the courts have applied a judicial brake to an academy decision made by Education Secretary Michael Gove.
The judge said it seemed the present secretary of state "thinks academies are the cat's whiskers - but we know some of them are not".
Last week Mr Gove made an academy order under the Academies Act 2010, taking the school out of the hands of the local council, the London Borough of Barking and Dagenham.
He also decided to set up a new governing body composed of interim executive members.
Mr Justice Collins said the local authority had taken steps to achieve improvements at the school, but these were regarded as unsatisfactory by Ofsted in May last year.
The local authority had then decided on a "formal arrangement" with the nearby Robert Clack School, in Dagenham, but Mr Gove took the view this would not achieve the results of a sponsored academy, the judge said.
The judge disagreed, saying that it would be desirable for a consultation process to be carried out under the school's existing arrangements.
The judge said Ofsted was due to carry out a further inspection and this could indicate whether progress was already being achieved.
The London Borough of Barking and Dagenham said the ruling was a "victory" for the education of their children.
The UK's largest teachers union, the NASUWT, said the judgement reflected the public's "growing concern" over academies.
General Secretary Chris Keates, said: "This judgment is a reflection of the deep and growing concern among parents and the wider public about the use by the coalition of forced academisation to drive through its agenda to privatise and marketise our public education system."
A Department for Education spokesperson said: ‪"For at least a decade, the council has failed to provide anything like a sufficient standard of education at this school.
‪"Council taxpayers will be dismayed to learn that the council is seeking through the courts to thwart much-needed intervention at the school."
Related Internet Links
The BBC is not responsible for the content of external sites.