Olympic Park affordable housing 'trade off'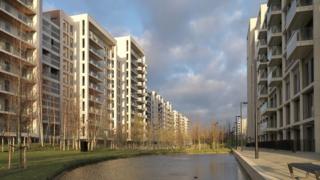 Less "affordable housing" is to be built on the 2012 Olympic Games site in a "trade off" for more economic activity, London's mayor has said.
Fewer homes will be built overall, and a smaller than promised percentage of those would be affordable, Boris Johnson said.
One reason for the shift is due to the plan for a new cultural centre at the site in Stratford, east London.
If the hub is built there would be a loss of around 1,000 new homes.
But Labour, Liberal Democrat and Green Party London Assembly members accused him of endangering the Olympic housing legacy.
'Olympicopolis hub'
A total of 7,000 homes had originally been planned for the Queen Elizabeth Olympic Park.
Speaking at a London Assembly meeting, Mr Johnson said fewer homes in the park was a "price well worth paying" if other forms of regeneration led to more jobs and economic activity.
"To an extent, this is a trade off," he said.
He believes the cultural "hub" - known as Olympicopolis - would lead to more homes being built in east London in the long-run.
The cultural centre is backed by University College London and the Victoria and Albert Museum.
It's also emerged that the next housing development to be constructed in the park will fall short of the mayor's affordable housing target.
'Windy aspirations'
The original promise was for 40% of 1,500 homes in the neighbourhoods to be known as East Wick and Sweetwater to be be affordable.
It was now likely to be around 30%, according to Neale Coleman, of the London Legacy Development Corporation (LLDC).
However Mr Coleman said the development was being brought forward several years, meaning affordable homes would become available sooner.
The mayor promised 35% of new homes in the Olympic park would be affordable, but the first development - 880 homes in Chobham Manor - will fall below that, at 28%.
Labour London Assembly member Nicky Gavron said it was clear the overall promise would now be broken.
"The dream of affordable housing is fading," she said.
Mr Johnson warned against "windy aspirations", saying what was finally approved and built would depend on viability and insisting that he wanted to see mixed communities.